Production
VBT production units are concentrated on a roofed area of 18,000 mq.

The employment of high-tech equipment together with highly skilled staff allow us to set high standards for quality and thus to satisfy every need and at competitive prices.

Most of our machinery is equipped with a bar code that permits the prompt traceability of manufactures as well as a better arrangement of production.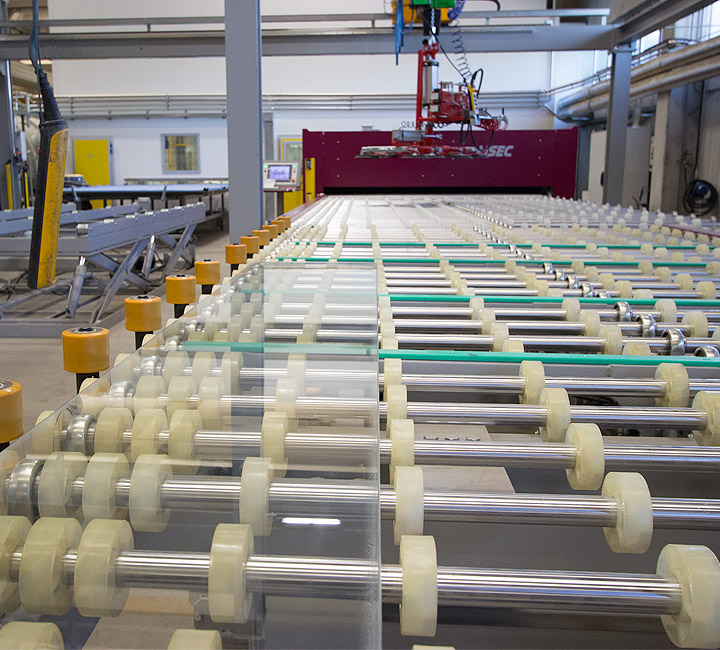 Below is a list of the machinery involved in the many stages of processing:

5 cutting lines for float and laminated glass with automatic loader and cropper
6 double edging machines designed to grind the edges of glasses
3 drilling machines
4 CNC horizontal machining centers and 1 CNC vertical machining center designed for large-sized glasses 6000mm X 3210mm
2 tempering ovens of which a new one installed in 2016 a convection oven for the tempering of selective glasses 6000mm x 3210mm
1 machine for glass stratification specializing in the laminating of high-performance alternative PVB as SGP, Bridgestone EVA or PVB solar control.
1 machine for screen-printing and calender for the painting of full fields until 5000mm x 2800mm.
1 cutting line for armored glasses
2 glass straight line multiple angle grinding machines
1 beveller
1 sandblaster allowing decorations