About us
Vetraria Bergamasca Tecnovetro was set up in 1995 from the merger of VETRARIA BERGAMASCA and TECNOVETRO BERGAMO, which were both artisan firms with several years' experience in the sector.
Its present production unit covers an area of 25,000 mq, 18,000 of which are roofed. Thanks to its high-tech manufacturing equipment, Vetraria Bergamasca Tecnovetro can perform a wide range of processes, thus meeting the customers' various requests both in terms of quality and production.

Today the Company is organized into different clusters of expertise including design, manufacturing and installation of glass panes for every field of use from the building to the furniture industry.

In addition, a well-stocked warehouse makes it possible to satisfy any commercial need punctually and proficiently.
---
The group
Bonesi Group is made up of two production sites: Vetraria Brembana of Almè, specialized in the manufacturing of insulating window panes, and Vetraria Bergamasca Tecnovetro of Zanica, which deals with the tempering, screen-printing and stratification of plane glass sheets.

VB and VBT are leading companies in the Italian glass industry. Thanks to their attitude of non-stop pursuit of innovation and the acquired experience in the field, they are a reference point for several architecture studies and chief construction groups.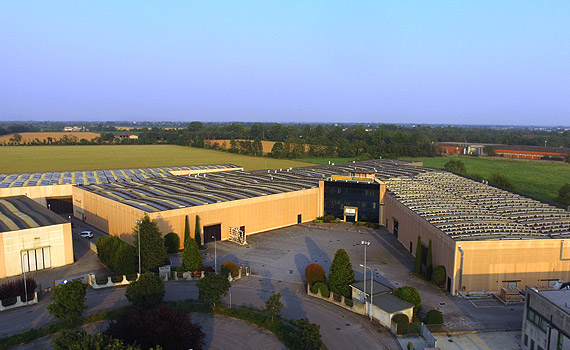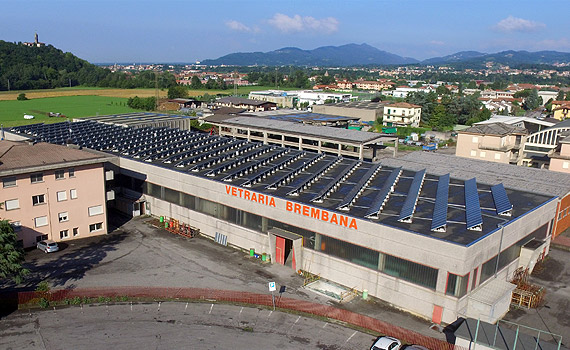 Our history
1971
Foundation
Vetraria Brembana was set up in Villa D'Alme in 1971 by the founder Cav. Angelo Bonesi, who is the sole director of the Company still today.
1983
Take-over Vetraria 2001
In 1983, when it numbered eight employees, the Company took over Vetraria 2001 of Fiorano al Serio.
1984
Company expansion
In March 1984 a new plant measuring 4,000 mq was built in Almè.
In October of the same year, after moving the equipment of Vetraria 2001 from Fiorano al Serio to Almè, also Vetraria Brembana was relocated from Villa d'Almè to Almè, hence establishing a unique base in 35 Olimpia Street, which is Vetraria Brembana's present address
1994
Take-over Vetraria Bonalumi Tecnovetro
In 1994 Vetraria Bonalumi Tecnovetro was purchased together with its 10 employees and its 1,500 mq plant in Orio al Serio.
1997
Take-over Vetraria Bergamasca Prealpina
In 1997 Vetraria Bergamasca Prealpina was acquired with its 10 employees.
It was the best-known company in the area surrounding Bergamo and its origins dated back to 1927; in the Sixties had numbered more than 70 employees.

As the plant in Orio al Serio was not large enough for the two companies (Vetraria Bonalumi Tecnovetro and Vetraria Bergamasca Prealpina) to operate, in 1998 it was decided to build a new plant in Zanica. A 10,000 mq plant where, in December of the same year, both the companies were moved and then merged to inaugurate VETRARIA BERGAMASCA TECNOVETRO S.r.l. In September of the same year, the Company also acquired the sales department of Milver Society, a big company based in Milan which deals with glass wholesale trade.

At the end of 1998, Vetraria Bergamasca Tecnovetro S.r.l. had a workforce of 30 employees.
2001 - 2002
Company expansion and international achievements
In 2001, due to the necessity of installing a new tempering oven, the plant was expanded by about 1,000 mq.

In 2002, as a consequence of using high-tech equipment, the combination of tempering and lamination, and the employment of highly skilled workers, the Company starts being assigned notable commissions, such as the realization of Armani's new Show-Room in Hong Kong. In the same period we were awarded the "Mercurio d'Oro" prize by the Lombardy Region.
2005
New machinery and awards
In 2005 some new equipment was installed in the plant in Zanica: two double-edging machines, a CNC vertical machining center, an automatic 220 x 350 screen-printing machine and a manual 600 x 320 screen-printing machine.

Thus we became a leading company in the Italian industry of glass manufacturing (cutting of simple, laminated, and armored glass - traditional and CNC grinding - engraving - automatic drills - two tempering ovens - HST - stratification with autoclave and, last but not least, automatic screen printing by means of drying oven).

Still in 2005 we worked for the Bressanone station, the Verdi Theatre of Pordenone and the Turin underground. Due to our work for the Verdi Theatre of Pordenone, we were awarded the first prize of the competition "GLASS AND ARCHITECTURE" organized by GLAVERBEL ITALY.

In the same period, the Company was assigned other sizeable commissions which have been of crucial importance to its growth and prestige.
Among our most important artifacts we can recall all the interior glasses of the QUAI BRANLY Museum opposite to the Eiffel Tower in Paris and the new library of Turin.
2007 - 2010
Extension e respect for the environment
In 2007, in order to meet the customers' increasing requests for excellent quality and prompt replies, once more the Company invested in the enlargement of its plant (5000 m2 were added) and in the purchase of a new tempering oven and a new double-edging machine.
Such devices were equipped for the processing of increasingly innovative magnetron glasses.

In 2010, to reduce environmental impact and increase sustainability, both the Companies decided to invest in photovoltaic facilities.
A number of solar panels, producing more than 1.2 million KW per year, were installed on the roofs of the two buildings, satisfying the Company's need of energy.
2015
New expansion and new equipment
New 500 m2 wing added, housing a new automatic digital printing line for hot stamp screen printing of glass panes measuring up to 5,000 x 2,800 cm.
Plus a new laminating tunnel specialising in lamination with alternative, high performance PVB interlayers, such as SGP, EVA BRIDGESTON or PVB with solar control.
2016
New furnace
A new convection glass tempering furnace for Low-E glass measuring up to 6,000 x 3,210 cm.
TODAY
Goals and objectives
Vetraria Bergamasca Tecnovetro and Vetraria Brembana are the modern embodiment of a history of great commitment and achievement, the result of continuous evolution in glass processing technology.
A leading figure in the Italian glass industry, the BONESI Group currently has more than 23,000 m2 covered production floor space and over 100 employees.